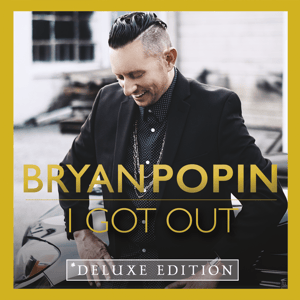 $

14.95
"I Got Out", Bryan Popin's July 21, 2017 full project release under his new imprint label, Little Boy Wonder Music | Flaydo Music, entered No. 1 on both the Billboard Current Gospel Albums and Top Christian/Gospel Albums sales charts. Popin's first No. 1 on Billboard, this project is packed with personal, testimony-driven songs, including the title cut and Billboard gospel radio smash hit, I Got Out! Also includes Popin's 1st single, Such A Time As This, another Billboard gospel radio hit for Popin and truly a timely song.
Produced by Bryan Popin and super-Producer AyRon Lewis (Kirk Franklin, James Fortune, Bishop Paul Morton Jr.).
"Step In The Name", loaded with infectious grooves and assertive lyrics to "just let go" and "praise your way through it" and "step into your miracle."
"Favor and Mercy", an honest interpretation of thankfulness. In spite of what we deserved, did not deserve, or even should have received, God protected me, spared me, still blessed me, still loved me, still made a way and surrounded me with His Favor and Mercy. "I could have failed", "I could have died", "I could have lost it all"... but, Favor and Mercy follows me.
"We Overcome", a modern day anthem declaration praise song combining the music styles of Israel Houghton, Tye Tribbett and Kirk Franklin.
"Oh How I Love Jesus", a live version of Popin's favorite hymn.
"You're Gonna Live Again", birthed from Popin's daughter, Bella, going through a social media bullying incident that lead to a physical assault. With depression, rejection and the insecurities becoming overwhelming to bear, God spoke a message of hope through song. "I know you've been wounded and scarred", "but, You're gonna breathe again", "You're gonna see again", "You're gonna live again!"
From old-school church music to modern day gospel. From ensemble vocals to talk box funk. Popin showcases his passion for good music, simple melodies and transparent lyrics. Combined with incredible singers and Popin's vocal flow, "I GOT OUT" seems to bridge the gap between the old-school and the new-school.
Top-notch collaborations include BET Sunday Best winner Tasha Page-Lockhart joining Popin on "Beautiful Savior," a huge audacious congregational cut with a sound that goes beyond the genre, and Gospel music and television superstar Tamela Mann contributing a soulful version of "Alright."
The *Deluxe Edition of "I GOT OUT" includes bonus Remixes of "I Got Out" and new Remixes of Popin's previous hit and theme song to many, "I Can Make It!"
Official "I GOT OUT" *Deluxe Edition Track List:
1. Step In The Name
2. We Overcome
3. Oh How I Love Jesus
4. Favor & Mercy
5. Such A Time As This
6. I Got Out
7. Beautiful Savior (feat: Tasha Page Lockhart)
8. Over Me
9. Alright (feat: Tamela Mann)
10. You're Gonna Live Again (Bella's Song)
11. Bryan Popin Talkbox Intro
12. I Can Make It (Remix 1)
13. I Can Make It (Remix 2)
14. I Can Make It (Remix 3)
15. I Got Out (Remix 1)
16. I Got Out (Remix 2)